LIVING WITH A HOUSE RABBIT
Rabbits can be litter trained easily.
When housed indoors, rabbits become members of the family.
Rabbits need a proper diet to remain healthy.
Spayed or neutered rabbits lose some unwanted adolescent behaviors and can't add to the problem of rabbit overpopulation. More than half of unspayed female rabbits develop uterine cancer.
You will need to bunny-proof your home to protect your property and to keep your rabbit out of harm's way.
Rabbits are social animals and can live together when spayed/neutered and introduced gradually in neutral territory over a period of time.
What to expect with your first house rabbit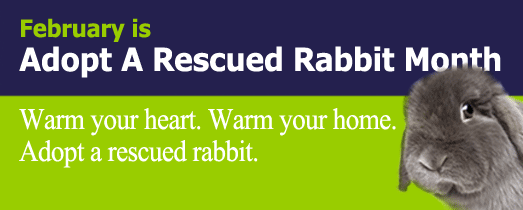 WHO WE ARE: Long Island Rabbit Rescue Group is an all-volunteer organization based on Long Island, New York. Our mission is to rescue abused, neglected or abandoned rabbits; have them medically treated and spayed/neutered; and place them in loving, indoor homes. We educate the public on the special care and health needs of domestic rabbits, and are sustained by your donations.
ADOPTING A FRIEND: Our adoption procedure includes a phone interview, home visit, and any necessary education of potential adopters. There is an adoption fee to help defray the cost of veterinary care and spay/neuter of the bunnies we find homes for. For more information about adoptions, please email or call us.
COME VISIT US: We don't have a physical shelter building. The rabbits are fostered in our homes. If you are interested in any particular bunny (or bunnies), we can make arrangements for you to meet them. If you would like a companion for a bunny you already have, we can arrange for several "meetings" and a bonding session to ensure your bunny will be happy with his/her new mate!
---

NEED A VET? See the list of recommended rabbit-savvy veterinarians in our area.
Read about the Long Island Rabbit Rescue Group in the news.
---

LONG ISLAND RABBIT
RESCUE IN THE NEWS

Read about Savannah's
rescue and the work we do
in an article in
One Green Planet here.
---
Do you live outside Long Island or New York City? Click here to find wonderful bunnies available for adoption in your area.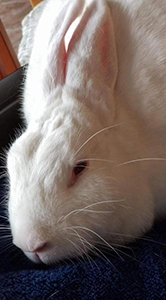 JADE was found by one of our group's founders on the side of a really busy road in Glen Cove late one night. With the assistance of the local police, Jade was rescued in about six minutes flat! She was immaculately clean so she likely was not outside for very long. At first very shy and afraid, every day in her foster home she has warmed up more and more. Now she is quite friendly. She sailed through her spay with no problems and is now ready to find a forever family to share her love.

See all our adoptable rabbits.

---
OUR WISH LIST: As well as volunteers and monetary donations, we are always in need of supplies to help take care of abandoned rabbits. Details about donations.
---
Read THUMP, THUMP, 9abbit Rescue & Rehab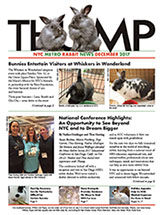 ---
ALEXANDER'S FUND: With your donation, you can help provide rescued bunnies like Alexander needed medical care so they can have a second chance at life—or a chance for a dignified, pain-free and comfortable life until it is their time to pass over the Bridge. Read Alexander's story.
---
---
Visit our Memorial page.